Legacy Family Office Newsletter – October 2023
Posted on October 23, 2023

Then and Now
In 2003, the U.S. was emerging from the dot-com recession, unemployment rates were peaking during a jobless recovery, and online shopping was becoming more popular. Twenty years have passed, and here's how some things have changed — one pandemic and two recessions later.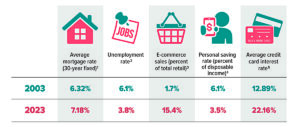 Click Here to Read More
Important Disclosure:Third-party rankings and recognition from publications are no guarantee of future investment success. Working with a highly-rated adviser does not ensure that a client or prospective client will experience a higher-level performance. These ratings should not be construed as an endorsement of the adviser by any client. Rankings and recognition are based on information prepared and submitted by the adviser.

Legacy Family Office is registered as an investment adviser with the State of Florida. The firm only transacts business in states where it is properly registered, or is excluded or exempted from registration requirements. Registration does not constitute an endorsement of the firm by the Commission nor does it indicate that the adviser has attained a particular level of skill or ability. The firm is not engaged in the practice of law or accounting. All investment strategies have the potential for profit or loss. Hyperlinks in this article are provided as a convenience and we disclaim any responsibility for information, services or products found on websites linked hereto.