Legacy Family Office Newsletter – February 2023
Posted on March 02, 2023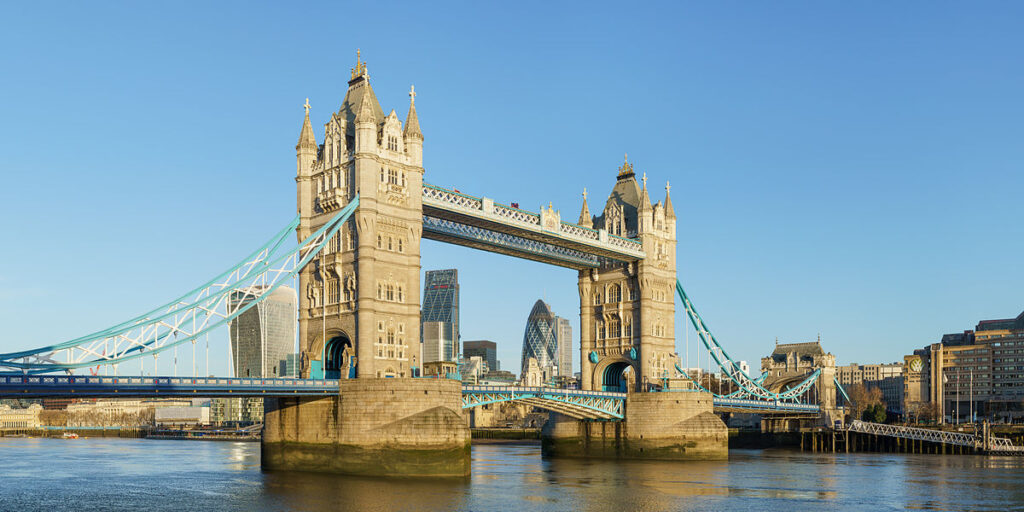 Creating Your Own Operation London Bridge
"London Bridge is down." … those words were reportedly used to launch what were arguably the most complex end-of-life proceedings the world had ever witnessed: the funeral arrangements for Queen Elizabeth II. The plan, known as Operation London Bridge, laid out in exacting detail how the ensuing days would unfold. Although most families don't need a playbook as intricate as the royals, a comprehensive end-of-life plan can significantly ease the burden on family members during a highly emotional period.
Guidance in a Medical Crisis
What would happen if you became incapacitated and could not make financial or medical decisions for yourself? To help ensure that your affairs continue to be managed by someone you trust and according to your wishes, you might consider creating a durable power of attorney (DPOA) and an advance medical directive.
A DPOA authorizes someone to manage your finances on your behalf, while a medical directive documents your wishes for medical care, such as whether you want extraordinary measures to prolong life if there is no chance of recovery. There are several types of DPOAs and advance medical directives; each has its own purpose, benefits, and drawbacks and may not be effective in some states.
Funeral Instructions
Planning your funeral or similar commemoration can relieve significant stress on your family members. Decisions would typically cover whether you want a burial or cremation, a wake with or without viewing, a religious ceremony or secular event, and could include details such as music, readings, speakers/clergy, flowers, venues, and an obituary. You might discuss thoughts with family members, taking their ideas into consideration. You might also consult a trusted funeral director who can help you navigate the various options, decide whether to prepay for arrangements, and become a valuable resource to your family when the time comes.
Estate Management
The most fundamental components of an estate plan are also among the most important: a will and a letter of instruction.
A will states how you wish to disburse your assets, names an executor to act as your legal representative, provides guidance for the management of your financial affairs, and (if appropriate) identifies who you want to be guardian of your minor children and their assets. A letter of instruction has no legal status but provides vital details that complement your will (see bullet points below).
You might also familiarize yourself with the death-related tax rules at both the federal and state levels. The 2023 federal estate tax exemption is$12.92 million. Although that sounds like a lot, 17states impose their own estate and/or inheritance tax —most at much lower thresholds. When you consider that an estate includes the value of your home, insurance policies, retirement plans, and other assets, it may be easier than you'd expect to trigger a taxable situation. (Estate tax is imposed on the estate of the deceased, while an inheritance tax is imposed on the beneficiary.)
Seek Assistance
For more information on how to create your own Operation London Bridge, contact an estate planning attorney. Once your plan is established, store all documents in a safe place and communicate its location to your executor.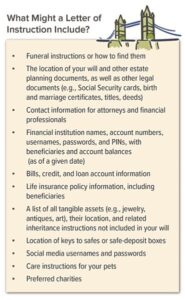 Click Here to Read More
Important Disclosure:Third-party rankings and recognition from publications are no guarantee of future investment success. Working with a highly-rated adviser does not ensure that a client or prospective client will experience a higher-level performance. These ratings should not be construed as an endorsement of the adviser by any client. Rankings and recognition are based on information prepared and submitted by the adviser.

Legacy Family Office is registered as an investment adviser with the State of Florida. The firm only transacts business in states where it is properly registered, or is excluded or exempted from registration requirements. Registration does not constitute an endorsement of the firm by the Commission nor does it indicate that the adviser has attained a particular level of skill or ability. The firm is not engaged in the practice of law or accounting. All investment strategies have the potential for profit or loss. Hyperlinks in this article are provided as a convenience and we disclaim any responsibility for information, services or products found on websites linked hereto.