Legacy Family Office CEO Featured in Florida Weekly
Posted on November 02, 2017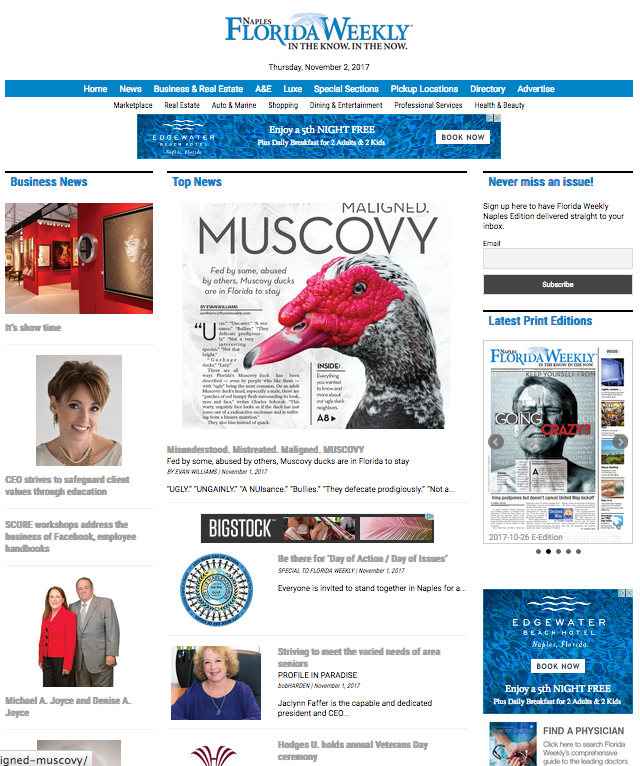 CEO Strives to Safegaurd Client Values Through Education
by: Robbie Spencer
November 1, 2017
As seen in Florida Weekly:
Southwest Florida is a unique community in that so many people from all walks of life have ties here. Many seasonal residents began their love affair with the region through a family vacation or from friends who came down. Tamara Surratt is no different. The Illinois native vacationed in Naples every year with her family, then her parents moved down when she left for college.
Thirty years later, Ms. Surratt is as embedded in the community as one can be. She's the leader of Legacy Family Office, a multi-family wealth management and coordination company based out of Coconut Point in Estero.
The first person in her family to get a college education, Ms. Surratt has made education a priority throughout her life's initiatives. She earned an MBA from Florida Gulf Coast University and serves as chairman of the board of the Florida SouthWestern State College Foundation.
"FSW was 25 years old when I got here. Now it's 55," she said. "I've watched it, along with FGCU in its infancy, as it blossomed into the amazing institution that it is."
At Legacy Family Office, her mantra revolves around ensuring future generations of wealthy families understand their role in safeguarding their predecessors' success.
She spent her career in the bank and private client world before deciding to strike off on her own 11 years ago. "I felt my clients needed more comprehensive solutions for passing their wealth to the next generation," she said.
Legacy Family Office is aptly named; the firm's top priority is preserving each family's legacy and all its aspects: its wealth, vision, mission, hopes and dreams for the future and the values that have brought them to this point.
"Those values helped them amass their wealth to pass it on," Ms. Surratt said. "I've been blessed to work with some amazing clients. I've learned so much from them and the experiences they've shared over the years."
She shared stories of some who took mortgages out on their homes and had both husband and wife working multiple jobs to support the family business until it took off.
"The values that have built the wealth are so inspiring to me … their work ethic is unmatched."
Education had been a part of Ms. Surratt's life for so long, it was a natural move to transition into the educational realm with FSW.
"By the time I was 35, I'd been in school for 30 years," she said with a laugh. "I went straight from my bachelor's degree into working and began my master's degree part-time."
As chairman of the board for the FSW Foundation, she devotes much of her free time to raising money to make education available for deserving students.
Last year she funded a scholarship that put three students through a full year of the program at FSW at no cost. Half of the fund was earmarked for a pediatric nursing student and half for nursing students dedicated to serving the mental health community.
"There's a huge shortage of mental health nurses … it's something not talked about a lot," she said. A unique aspect about the FSW program, she added, is that most graduates stay in the community and serve this area because there is such a huge need for nurses here. "We can't educate them fast enough."
Ms. Surratt strongly believes the college age is an extremely formative time for anyone.
"The education process starts very young, especially with my clients and their families. When they get in to college, there's an appropriate level of disclosure to help them understand the role they have as wealth owners … it's important to have those money conversations early and as age appropriate."
Her investment in education has paid dividends she couldn't have imagined when she began her odyssey more than three decades ago.
"Education has changed my life, my son's life, my granddaughter's life, my community," she said "The ripples of education span so far from the student themselves … It's worth our investment, time and treasure to make that a reality for as many as we can." ¦
Interview with Tamara Surratt
Business mentor: Warren Buffett. I look at him as a role model who built wealth over his lifetime and hasn't let it change him. His values haven't deteriorated. He still continues to live the lifestyle that he lived before he was the one of the wealthiest individuals in America.
First job: My hometown in Illinois had a population of 700, and I worked in the downtown grocery store as a cashier, long before the days of digital scanners and computers. We hand-keyed everything and had to make change in our head … Still to this day I'm very good at a 10-key on a register.
Advice for someone starting out in your field: Concentration is the key to accumulating wealth. Diversification is the key to preservation.
Business words of wisdom: "You should give your children enough money to do what they want, but not enough to not do anything."
Any job openings? Not right now.
Hyperlinks on this website are provided as a convenience and we disclaim any responsibility for information, services or products found on websites linked hereto.
Read the original article
Important Disclosure:Third-party rankings and recognition from publications are no guarantee of future investment success. Working with a highly-rated adviser does not ensure that a client or prospective client will experience a higher-level performance. These ratings should not be construed as an endorsement of the adviser by any client. Rankings and recognition are based on information prepared and submitted by the adviser.

Legacy Family Office is registered as an investment adviser with the State of Florida. The firm only transacts business in states where it is properly registered, or is excluded or exempted from registration requirements. Registration does not constitute an endorsement of the firm by the Commission nor does it indicate that the adviser has attained a particular level of skill or ability. The firm is not engaged in the practice of law or accounting. All investment strategies have the potential for profit or loss. Hyperlinks in this article are provided as a convenience and we disclaim any responsibility for information, services or products found on websites linked hereto.