Socially Responsible Investing – Is It For You?
Posted on October 19, 2017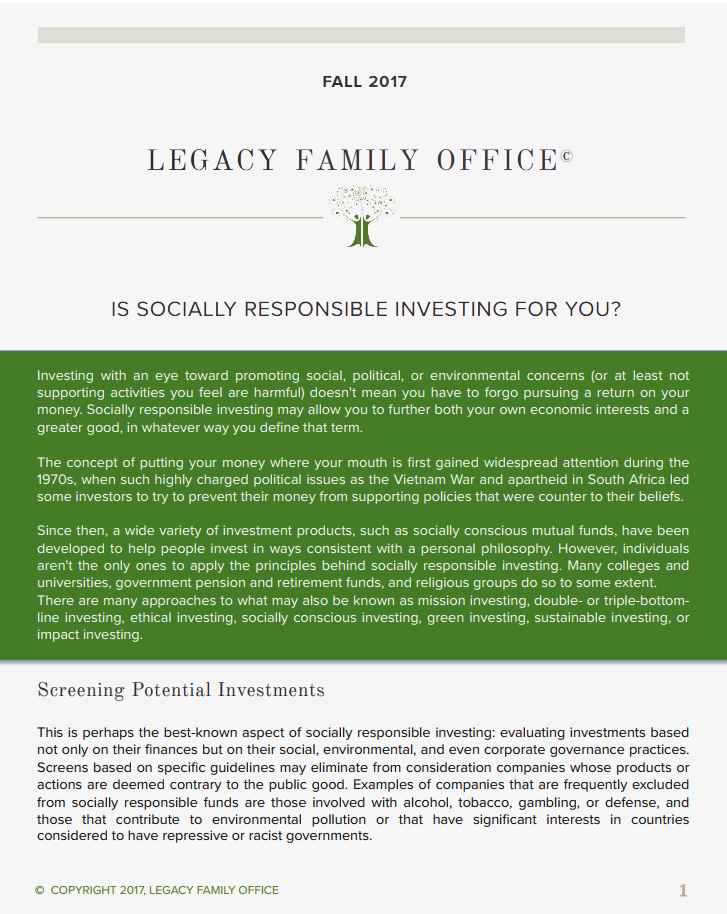 What is Socially Responsible Investing? And what do families need to know about it? Growing in popularity and increasingly in media news and headlines, Impact Investing, also known as Socially Responsible Investing (SRI) or Environmental, Social and Governmental (ESG) Investing, has become a central point in many investment conversations. Legacy Family Office Founder and President Tamara Surratt has authored a commentary explaining the different kinds of socially impactful investing, and how a family should begin to explore this concept.
In this paper we cover:
The screening process for impact investments
Shareholder activism
Community investments
Impact investing
Seeking out potential investments and rallying around a cause
read the full piece
Important Disclosure:Third-party rankings and recognition from publications are no guarantee of future investment success. Working with a highly-rated adviser does not ensure that a client or prospective client will experience a higher-level performance. These ratings should not be construed as an endorsement of the adviser by any client. Rankings and recognition are based on information prepared and submitted by the adviser.

Legacy Family Office is registered as an investment adviser with the State of Florida. The firm only transacts business in states where it is properly registered, or is excluded or exempted from registration requirements. Registration does not constitute an endorsement of the firm by the Commission nor does it indicate that the adviser has attained a particular level of skill or ability. The firm is not engaged in the practice of law or accounting. All investment strategies have the potential for profit or loss. Hyperlinks in this article are provided as a convenience and we disclaim any responsibility for information, services or products found on websites linked hereto.